Philippe's fantastic interpretation of The Reaper in deep blues shows off his unique painting style. Note the headstock is painted to match the body on every EBG.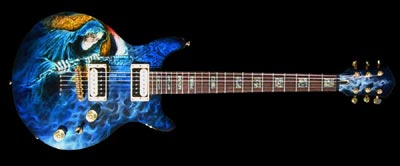 Larger views: view 1 (49k) &nbsp | view 2 (44k) &nbsp | view 3 (200k)
Note: Photogaphs don't do justice to how amazing these guitars look in person.
Others in the series:
The Reaper
The Monster
See You In Black
Harverster of Eyes
ME-262
Black Blade