This guitar depicts both the Black Blade and its companion, The Sailor on a Sea of Fate, Elric of Melnibone from Michael Moorcock's famous "Eternal Champion" books. Eric and Michael co-wrote the song "Black Blade".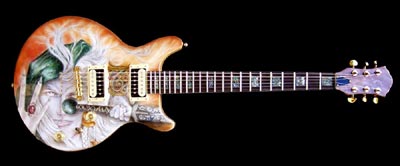 Larger views: view 1 (46k) &nbsp | view 2 (46k) &nbsp | view 3 (43k) &nbsp | view 4 (160k)
Note: Photogaphs don't do justice to how amazing these guitars look in person.
Others in the series:
The Reaper
The Monster
See You In Black
Harverster of Eyes
ME-262
Black Blade